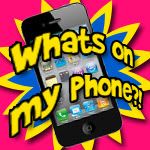 So Jessica over at The Lowe Family News does this really cute thing every week where she posts random pictures she's taken through out the week.
Now I don't have cute kids to take pics of like she does, but if you've read my blog for any amount of time I'm sure you already know I take LOADS of random pictures! So this week I'm participating in "What's On My Phone?!" Enjoy.
Humane Society's that host adoption days outside of PetSmart are sneaky smart. They know I'm vulnerable. This little girl would have came home with me if I hadn't been in future Mother-In-Law's car.
Marine and I were hiking in the woods and I stop to take pictures of things growing on trees. I thought they were pretty. He couldn't understand why he kept waiting on me...... (I have about 10 of this same photo just different trees on my phone).
Christmas is officially here when I start baking!
Saw these towels at Wal-Mart and really liked them. I like blue and brown mixed together.Also love, love, LOVE all the Better Homes & Gardens line that Wal-Mart is now carrying.
Went to the local Christmas tree farm in search of a tree. These were all way to big unfortunately.
While eating lunch with Red at Chick-Fil-A we look out the window to see this. Did you do a double take? We did!
I have reached a new low. The Kleenex box I normally keep in the 4runner ran out. For a week now I have been riding around with a roll of toilet paper in my car. Don't judge - Cottonelle with aloe is softer than Kleenex with lotion.
On cold days this is where you can find my dog. Man does she have it made or what?!
With Marine being stationed 500 miles away I tend to take lots of pictures to send to him ---
these next pics were pics on my computer I took with my phone to send to him, please ignore the fuzziness
. And in working on my
30 Before 30
list I have been taking a Photoshop class. This week the lesson was to learn to paint. Since I can't paint in real life I had a lot of fun with this project!
This was my original photo:
This is the photo after painting... Cool huh?!
Here is another painted picture I sent to Marine. I love this one, because I love old barns!
What's on your phone?